Data Working Group/DWG Activity Report Q2 2022
DWG activity report for Q2, 2022
Statistics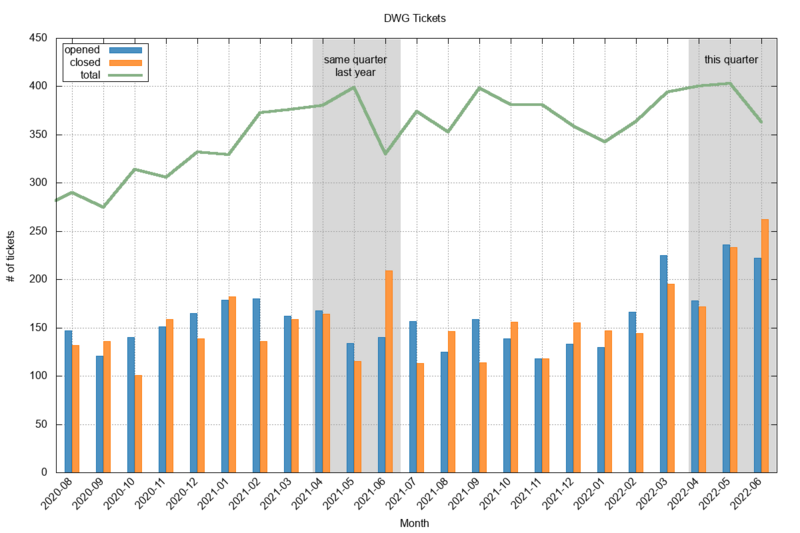 636 tickets were created in OTRS in this quarter (160 of these were copied from the web site issue tracker). Issues of minor importance are sometimes handled directly in the web site issue tracker and will therefore not be counted.
A total of 890 messages were received in the context of these tickets, and 1108 messages and memos were written by DWG members.
157 tickets were follow-on tickets to older issues, 73 were discarded as spam. 351 tickets created in this quarter were closed, and additionally, 161 tickets from previous periods were closed.
The median time for the first (non-automated) response to tickets was 9 hours.
13 DWG members were active in the quarter (88% of cases were handled by the five busiest members).
The majority of tickets were handled in English (424), but we also used the languages German (26), Spanish (12), Dutch (11), French (10), Russian (8), Italian (6), and Danish (6). (We will also often include auto-translated versions of English messages in responses.)
Generally, all these numbers should be taken with a grain of salt because edge cases can be mis-counted in our statistics. Also, due to reorganisation or cleaning out of old information, it is possible that previous quarters shown in the above graph differ slightly from the numbers published at the time.
Comment and Notable Issues
Incompatible address addition in Germany
One thing that we've noticed more of recently (see also "Fantasy mapping so that edits show up in third-party users of OSM data" in https://wiki.osmfoundation.org/wiki/Data_Working_Group/DWG_Activity_Report_Q1_2022 ) is mappers "doubling down" on incompatible sources, saying things like "why yes, I have visited all these places all over the USA and remembered all the address information perfectly" and in this case "yes, I did survey all of these street addresses in this large German city on my bike". In this case the mapper was easily disproved with a couple of photographs.
Spam notes in Poland
This person said they wanted to "organise a festival in your website OpenStreetMap" (which seemed to involve the creation of lots of spam notes). We blocked then until they agreed not to do that.
Name changes in Iraqi Kurdistan
We've had lots of these, but this particular incident was interesting because someone was making edits to OSM and Wikipedia in parallel. The reaction to the edits in Wikipedia was useful because it gave us more links to follow up about what the use of a particular name (as opposed to a different one) signifies.
Poor quality building additions in Italy
This wasn't an import as such, but a digitisation process that simply had nothing like the checking that should have happened before upload. The mapper agreed that the quality was simply not good enough and the problem data was reverted.
Transport for London Cycling Infrastructure
An effort was made by Transport for London to add elements of their Cycling Infrastructure Database to OSM. This started years ago and they did many things right, contracting with people from the OSM community who were experienced and gave sound advice. However, things came to a head in June of 2022 when they had apparently passed on the more manual-labour-intensive parts of the project - manually conflating data - to a contractor with limited experience who was unaware of the Organised Editing Guidelines, or even how to react to community members telling them when they made a mistake. The contractor forged on and replaced a lot of proper ground-surveyed data with stale information from the TfL database, until the UK community asked DWG to block the accounts involved. This was an example of how even a well-planned project can take a wrong turn on the last mile, but in this case the issues could be resolved with the help of the UK community.
List of Cases
closed tickets from previous periods
Created
Type
Region
Action
2019-06-24 13:24
poor mapping
Worldwide
block issued, changeset commented
2019-10-27 19:54
other
2020-03-27 22:48*
user dispute or no response
Saudi Arabia
advice given
2020-07-06 10:54
user dispute or no response
USA
block issued
2020-07-18 19:05
request for help or information
South America
community contacted
2020-09-03 16:53
user dispute or no response
Lithuania
advice given
2020-09-08 09:23
other
USA
block issued, changeset commented
2020-09-18 19:54
3rd party complaint about data
USA
2020-11-28 22:16
policy violation
Asia
reverted
2020-12-03 14:32
user dispute or no response
Germany
block issued
2020-12-03 20:32
user dispute or no response
Norway
no action needed
2020-12-06 16:17
poor mapping
Indonesia
no action needed
2020-12-06 18:42
user dispute or no response
Iran
advice given, block issued
2020-12-07 20:18
3rd party complaint about data
United Kingdom
advice given
2020-12-07 20:48
other
Iran
no action needed
2020-12-08 10:04
poor mapping
Germany
advice given
2020-12-09 02:32
3rd party complaint about data
USA
advice given
2020-12-09 09:19
3rd party complaint about data
Germany
advice given
2020-12-10 23:15
user dispute or no response
no action needed
2020-12-17 15:21
3rd party complaint about data
United Kingdom
advice given
2020-12-17 21:47
3rd party complaint about data
USA
map edited
2020-12-17 22:49
request for help or information
advice given
2020-12-21 13:17
policy violation
Sweden
advice given, changeset commented
2020-12-21 22:18
vandalism
Italy
block issued
2021-01-07 10:36
user dispute or no response
Germany
block issued
2021-01-14 15:38
vandalism
Austria
changeset commented
2021-01-26 15:13
3rd party complaint about data
Canada
advice given
2021-01-27 10:37
user dispute or no response
New Zealand
changeset commented
2021-02-02 09:14
user dispute or no response
Russia
no action needed
2021-02-02 17:22
3rd party complaint about data
Austria
advice given, reverted
2021-02-03 19:12
3rd party complaint about data
USA
changeset commented
2021-02-15 10:29
international dispute
Sudan
advice given
2021-02-17 21:53
user dispute or no response
USA
advice given
2021-02-26 08:00*
user dispute or no response
Poland
block issued, changeset commented
2021-03-01 19:18
vandalism
Austria
changeset commented, reverted
2021-03-02 20:11
poor mapping
Germany
changeset commented
2021-03-20 18:07
3rd party complaint about data
Canada
map edited
2021-03-25 21:04
other
Slovakia
changeset commented
2021-03-30 22:34
other
United Kingdom
advice given
2021-04-07 09:53
user dispute or no response
Austria
block issued
2021-04-09 22:21
user dispute or no response
Japan
block issued
2021-04-11 11:21
poor mapping
Spain
changeset commented
2021-04-11 12:30
user dispute or no response
Germany
changeset commented
2021-04-11 13:42
user dispute or no response
Lithuania
changeset commented
2021-04-12 15:05
3rd party complaint about data
Canada
map edited
2021-04-17 12:49
3rd party complaint about data
Germany
advice given, changeset commented
2021-04-19 11:39
other
Germany
community contacted
2021-04-21 22:36
vandalism
Russia
changeset commented
2021-04-26 21:48
international dispute
Ukraine
2021-05-05 17:47
vandalism
Iran
block issued
2021-05-07 14:18
other
Austria
advice given
2021-05-08 09:24
poor mapping
Philippines
changeset commented
2021-05-24 21:34
3rd party complaint about data
USA
community contacted
2021-05-26 13:40
policy violation
USA
block issued, reverted
2021-05-26 22:26
user dispute or no response
Armenia
no action needed
2021-06-04 08:48
3rd party complaint about data
Austria
advice given
2021-06-07 17:44
other
Norway
community contacted
2021-07-29 23:28*
vandalism
Greece
advice given, block issued, changeset commented, community contacted, reverted
2021-10-08 17:00*
poor mapping
Brazil
advice given, block issued, redacted
2021-10-09 12:39
poor mapping
Brazil
advice given
2021-10-14 06:12
other
Australia
no action needed
2021-10-21 08:22
user dispute or no response
India
advice given
2021-10-27 14:06
user dispute or no response
USA
advice given, block issued, changeset commented
2021-11-03 10:07
poor mapping
USA
advice given, block issued, changeset commented, map edited, reverted
2021-11-05 16:38
other
Perú
changeset commented
2021-11-05 17:03
user dispute or no response
Perú
advice given, changeset commented
2021-11-25 18:05
other
NL
advice given
2021-11-28 00:26
other
2021-12-07 01:17*
user dispute or no response
USA
advice given, block issued
2022-01-05 18:40*
other
Canada
block issued
2022-01-05 19:28
other
n/a
advice given
2022-01-07 23:53
poor mapping
Worldwide
reverted
2022-01-13 22:38
other
Canada
advice given
2022-01-17 14:39
user dispute or no response
Germany
no action needed
2022-01-22 19:11*
other
italy
advice given, block issued
2022-01-23 18:53*
other
Canada
block issued
2022-01-28 04:21
poor mapping
USA
changeset commented
2022-02-03 07:48
user dispute or no response
Ukraine
no action needed
2022-02-03 12:24
other
Ukraine
no action needed
2022-02-06 12:01
other
Poland
advice given, block issued
2022-02-07 11:55*
other
Poland
block issued
2022-02-11 18:46*
other
Mali
advice given, block issued
2022-02-13 04:08
user dispute or no response
Australia
no action needed
2022-02-14 07:28
other
Poland
advice given
2022-02-16 17:35
request for help or information
France
advice given
2022-02-18 13:03*
other
Ukrain
advice given
2022-02-18 13:05
other
Ukrain
advice given
2022-02-20 19:47
other
Poland
advice given
2022-02-20 20:47*
user dispute or no response
Saudi Arabia
advice given, block issued
2022-02-21 10:15
other
Netherlands
advice given
2022-02-21 18:09
other
Poland
block issued
2022-02-27 08:55*
other
USA
advice given, block issued
2022-02-27 16:45
request for help or information
advice given
2022-02-28 04:27
policy violation
USA
reverted
2022-03-01 09:05
other
Australia
block issued
2022-03-01 10:41
request for help or information
Ukraine
no action needed
2022-03-03 21:48*
user dispute or no response
Marruecos / Morocco
block issued
2022-03-03 23:46*
other
Ukraine
block issued
2022-03-04 12:25
privacy issue
USA
advice given
2022-03-04 13:36
international dispute
Ukraine
no action needed
2022-03-04 23:40
policy violation
Chile
community contacted
2022-03-05 14:26
other
USA
map edited, reverted
2022-03-09 04:30
poor mapping
Taiwan
no action needed
2022-03-09 13:00*
misdirected complaint
Turkey
advice given
2022-03-09 14:58
request for help or information
Poland
advice given
2022-03-10 20:28
spam
France
map edited
2022-03-12 20:04
user dispute or no response
Philippines
hiding of notes or comments
2022-03-13 13:19
other
USA
block issued, changeset commented
2022-03-13 13:23
vandalism
Ukraine
advice given
2022-03-14 16:03*
other
italy
advice given, block issued
2022-03-14 18:04
3rd party complaint about data
Germany
advice given
2022-03-15 15:22
other
Australia
advice given
2022-03-16 12:59
user dispute or no response
USA
no action needed
2022-03-16 20:43
user dispute or no response
USA
community contacted
2022-03-17 21:44
international dispute
Ukraine
advice given
2022-03-18 00:17
other
USA
advice given
2022-03-18 00:47*
poor mapping
USA
advice given
2022-03-18 07:49*
other
Poland
block issued
2022-03-18 11:09*
international dispute
Ukraine
advice given, block issued, changeset commented, hiding of notes or comments, reverted
2022-03-22 06:19*
poor mapping
New Zeland
reverted
2022-03-22 21:01*
poor mapping
Ukraine
advice given, block issued, community contacted
2022-03-23 00:29
vandalism
Ukraine
advice given
2022-03-23 15:11
misdirected complaint
no action needed
2022-03-25 18:40
vandalism
Ukraine
advice given
2022-03-26 02:21
other
Mostly US
advice given
2022-03-26 13:05*
poor mapping
Japan
advice given
2022-03-26 13:24*
poor mapping
Poland
advice given
2022-03-26 14:32
poor mapping
Worldwide
advice given, block issued, community contacted
2022-03-26 14:59*
vandalism
Russia
advice given
2022-03-26 15:17*
poor mapping
Germany
advice given, block issued
2022-03-26 15:42*
poor mapping
Germany
advice given
2022-03-26 15:54
user dispute or no response
2022-03-26 15:58*
copyright
Japan
advice given
2022-03-26 16:15
poor mapping
Worldwide
advice given, changeset commented
2022-03-27 11:04*
poor mapping
Worldwide
advice given, community contacted
2022-03-27 11:25*
user dispute or no response
Iran
advice given
2022-03-27 11:29*
vandalism
Germany
advice given
2022-03-27 11:34*
poor mapping
Russia
advice given
2022-03-27 12:03*
user dispute or no response
Sweden
advice given
2022-03-27 12:17*
poor mapping
Russia
block issued
2022-03-27 12:25*
user dispute or no response
Italy
advice given
2022-03-27 12:33
poor mapping
Europe
advice given, block issued
2022-03-27 12:35
misdirected complaint
Unknown
advice given
2022-03-27 13:56*
poor mapping
France
advice given
2022-03-27 14:01
user dispute or no response
USA
changeset commented
2022-03-27 14:12*
other
Spain
other
2022-03-27 15:42
request for help or information
Ukraine
no action needed
2022-03-28 09:18
misdirected complaint
Turkey
advice given
2022-03-28 13:19*
poor mapping
Russia
changeset commented
2022-03-28 14:42*
poor mapping
Russia
block issued
2022-03-28 20:07
3rd party complaint about data
United Kingdom
advice given
2022-03-30 08:09*
other
India
advice given
2022-03-30 08:33
other
China
advice given, block issued
2022-03-30 14:01*
poor mapping
Russia
block issued, changeset commented, reverted
2022-03-30 14:03*
poor mapping
Russia
changeset commented
2022-03-30 14:48
3rd party complaint about data
USA
advice given
2022-03-31 04:43
copyright
Worldwide
block issued, changeset commented, reverted
2022-03-31 14:36
other
USA
community contacted
2022-03-31 21:16*
poor mapping
USA
advice given, block issued
2022-03-31 21:32*
user dispute or no response
Poland
advice given, block issued
2022-03-31 23:28
user dispute or no response
Europe
no action needed
closed tickets from this period
Created
Type
Region
Action
2022-04-01 09:01
other
Poland
advice given, block issued
2022-04-02 01:04
other
Canada
advice given, hiding of notes or comments
2022-04-02 12:07
other
USA
advice given, redacted
2022-04-03 10:52
poor mapping
Bahamas
block issued, map edited, reverted
2022-04-03 10:59
other
België
advice given
2022-04-03 11:05
copyright
Bahamas
community contacted
2022-04-03 17:46*
poor mapping
Canada
advice given, changeset commented, map edited
2022-04-03 18:10*
poor mapping
Ethiopia
changeset commented, community contacted
2022-04-03 19:51*
poor mapping
USA
advice given, block issued
2022-04-03 20:18
request for help or information
Germany
advice given
2022-04-04 01:49
international dispute
Persian/Arabic Gulf
advice given
2022-04-04 09:21*
user dispute or no response
Peru
advice given
2022-04-04 19:12
international dispute
Ukraine
2022-04-05 00:15
international dispute
Iran
advice given
2022-04-05 01:44
other
2022-04-05 10:37
other
France
advice given
2022-04-05 12:15
other
Azerbaijan
advice given
2022-04-07 00:15
other
Poland
advice given, block issued
2022-04-07 06:43
international dispute
Cyprus
advice given
2022-04-07 13:13
other
Austria
advice given, redacted
2022-04-07 14:24*
vandalism
Belarus
block issued
2022-04-08 06:19
international dispute
Crimea
advice given
2022-04-09 00:47*
vandalism
UK
block issued, reverted
2022-04-10 09:10
misdirected complaint
Germany
advice given
2022-04-10 11:03*
poor mapping
Russia
block issued, changeset commented
2022-04-10 15:22
vandalism
Germany
block issued
2022-04-10 19:13
vandalism
Russia
block issued, reverted
2022-04-10 23:44
request for help or information
advice given
2022-04-11 01:11
other
2022-04-11 02:34*
poor mapping
Russia
changeset commented
2022-04-11 08:04*
other
2022-04-11 12:09*
other
GB
advice given
2022-04-11 21:06*
vandalism
Finland
block issued, changeset commented
2022-04-12 01:03*
privacy issue
New Zealand
hiding of notes or comments
2022-04-12 17:44
privacy issue
Japan
redacted
2022-04-13 03:50*
other
2022-04-13 13:33
other
UK
advice given
2022-04-14 05:49
other
2022-04-14 15:23*
user dispute or no response
Italy
advice given, changeset commented
2022-04-14 15:57
other
België
advice given
2022-04-14 20:05
poor mapping
2022-04-14 20:54*
poor mapping
2022-04-15 02:16*
vandalism
Belarus
no action needed
2022-04-15 07:10
other
Hungary
hiding of notes or comments
2022-04-15 10:09
request for help or information
Australia
advice given
2022-04-15 11:33
request for help or information
MArshall Islands
advice given
2022-04-15 13:08
poor mapping
Afghanistan
hiding of notes or comments
2022-04-16 11:01
vandalism
Ukraine
no action needed
2022-04-17 12:35
other
Nederland
advice given
2022-04-17 19:29
misdirected complaint
advice given
2022-04-18 10:19
poor mapping
UK
2022-04-19 09:38*
other
Georgia
advice given
2022-04-19 15:01
request for help or information
France
advice given
2022-04-20 05:00
other
USA
advice given, block issued
2022-04-20 08:53
3rd party complaint about data
USA
advice given
2022-04-20 09:39
other
New Zealand
advice given
2022-04-20 09:50
poor mapping
2022-04-20 10:20*
policy violation
Brazil
advice given, block issued
2022-04-20 10:23
international dispute
Iraq
block issued, map edited
2022-04-20 15:06
3rd party complaint about data
USA
advice given
2022-04-20 21:56
3rd party complaint about data
France
map edited
2022-04-21 14:13*
other
2022-04-22 01:17
other
2022-04-22 07:22
other
Poland
advice given, hiding of notes or comments
2022-04-22 07:46
3rd party complaint about data
USA
advice given, community contacted
2022-04-22 15:48
other
USA
advice given, redacted
2022-04-22 22:35*
poor mapping
Finland
block issued
2022-04-22 22:44*
poor mapping
India
advice given
2022-04-22 22:51*
poor mapping
Hungary
block issued
2022-04-22 22:58*
poor mapping
USA
block issued
2022-04-22 23:34*
international dispute
2022-04-22 23:59*
poor mapping
Italy
block issued
2022-04-23 09:24
request for help or information
USA
advice given
2022-04-24 00:02*
request for help or information
2022-04-24 09:11
misdirected complaint
2022-04-24 15:04
other
Belgium
advice given
2022-04-24 18:03*
other
Canada
block issued
2022-04-24 18:41*
other
USA
advice given, block issued, reverted
2022-04-25 03:10*
user dispute or no response
Belarus
block issued
2022-04-25 16:39
other
USA
advice given
2022-04-25 16:43
request for help or information
Canada
advice given
2022-04-25 21:19*
other
Perú
block issued, reverted
2022-04-25 21:30*
other
Perú
block issued
2022-04-25 21:34*
other
Perú
block issued, reverted
2022-04-25 21:39*
other
Perú
block issued, reverted
2022-04-26 09:08
3rd party complaint about data
Italy
community contacted, map edited
2022-04-27 12:30
3rd party complaint about data
Canada
map edited
2022-04-27 15:28
request for help or information
UK
advice given
2022-04-27 18:04
3rd party complaint about data
Germany
map edited
2022-04-27 18:51
poor mapping
Russia
map edited
2022-04-28 01:56
other
2022-04-28 07:10
poor mapping
Russia
no action needed
2022-04-28 11:11
3rd party complaint about data
USA
no action needed
2022-04-28 12:16
policy violation
Worldwide
advice given
2022-04-28 12:41
poor mapping
United Kingdom
advice given
2022-04-28 12:44
other
United Kingdom
community contacted
2022-04-28 13:15*
poor mapping
Iran
advice given
2022-04-28 13:20*
poor mapping
Argentina
advice given
2022-04-28 15:55
international dispute
Western Sahara
advice given, block issued, reverted
2022-04-28 17:05
3rd party complaint about data
USA
community contacted
2022-04-29 08:42
poor mapping
Germany
block issued
2022-04-29 12:11
misdirected complaint
Denmark
changeset commented, reverted
2022-04-30 16:45
other
2022-05-01 08:20
misdirected complaint
2022-05-01 08:23
user dispute or no response
Pakistan
no action needed
2022-05-01 16:58
user dispute or no response
Greece
no action needed
2022-05-02 06:07
other
Russia
no action needed
2022-05-02 09:38
user dispute or no response
Poland
no action needed
2022-05-02 10:35
other
Belgium
advice given
2022-05-02 17:58
other
Australia
advice given
2022-05-02 22:28*
user dispute or no response
2022-05-02 22:34*
poor mapping
Pakistan
advice given, block issued
2022-05-03 01:08
other
Iraq
no action needed
2022-05-03 05:59
user dispute or no response
Iraq
advice given, map edited, reverted
2022-05-03 14:38
3rd party complaint about data
USA
map edited
2022-05-03 16:53
vandalism
Israel
advice given
2022-05-03 21:04*
other
Perú
block issued
2022-05-04 10:52*
vandalism
Ukraine
block issued
2022-05-04 20:18
other
2022-05-04 20:53
other
Azerbaijan
advice given
2022-05-05 14:24
other
USA
block issued
2022-05-06 07:42
other
Belgium
2022-05-06 07:51
other
Belgium
advice given
2022-05-06 21:14
vandalism
USA
block issued, reverted
2022-05-07 13:29*
user dispute or no response
Iran
advice given
2022-05-07 13:35*
poor mapping
USA
block issued
2022-05-07 13:46*
poor mapping
USA
no action needed
2022-05-07 14:00
spam
Ukraine
no action needed
2022-05-07 14:08*
vandalism
Philippines
changeset commented
2022-05-07 14:37*
user dispute or no response
Persian/Arabian Gulf
reverted
2022-05-07 22:02*
poor mapping
USA
advice given, block issued, changeset commented, map edited, redacted, reverted
2022-05-08 13:10*
poor mapping
Ukraine
2022-05-08 13:25*
poor mapping
Australia
no action needed
2022-05-08 13:33*
poor mapping
Germany
advice given
2022-05-08 13:38*
poor mapping
USA
advice given
2022-05-08 13:51*
user dispute or no response
2022-05-08 13:57*
poor mapping
2022-05-08 14:37*
user dispute or no response
USA
advice given
2022-05-08 14:50*
international dispute
2022-05-09 03:51*
copyright
Russia
block issued, other, redacted
2022-05-09 10:15
request for help or information
United Kingdom
advice given
2022-05-09 10:20
user dispute or no response
Ukraine
advice given
2022-05-09 13:40*
poor mapping
Brazil
advice given
2022-05-10 04:20
3rd party complaint about data
Canada
advice given
2022-05-10 10:33
3rd party complaint about data
Germany
advice given
2022-05-10 12:34
other
2022-05-10 14:24*
other
NL
advice given
2022-05-10 18:47*
request for help or information
United Arab Emirates
advice given
2022-05-11 02:20
other
2022-05-11 05:28
other
Australia
advice given
2022-05-11 07:18
other
Nassau Island
redacted, reverted
2022-05-11 17:16
poor mapping
UK
block issued
2022-05-11 17:37
user dispute or no response
Russia
other
2022-05-11 18:21
international dispute
2022-05-12 05:03
3rd party complaint about data
Australia
map edited
2022-05-12 06:14
user dispute or no response
Germany
block issued
2022-05-14 10:11
request for help or information
USA
advice given
2022-05-14 15:25*
poor mapping
Iran
advice given
2022-05-15 02:06
misdirected complaint
USA
advice given
2022-05-15 06:50*
other
Poland
advice given
2022-05-15 07:29*
other
Poland
advice given
2022-05-15 08:10
other
World
block issued, reverted
2022-05-15 11:29*
vandalism
Poland
advice given
2022-05-15 11:33*
poor mapping
Egypt
advice given
2022-05-15 11:40*
user dispute or no response
2022-05-15 11:52*
poor mapping
Worldwide
block issued, other
2022-05-15 12:03*
vandalism
Iraq
block issued
2022-05-15 12:28*
user dispute or no response
Brazil
advice given
2022-05-15 12:41*
vandalism
France
no action needed
2022-05-15 17:42
misdirected complaint
Unknown
advice given
2022-05-15 17:45
request for help or information
Italy
advice given
2022-05-16 00:36*
poor mapping
Iraq
advice given
2022-05-16 08:03*
other
World
block issued
2022-05-16 09:14
policy violation
Italy
reverted
2022-05-16 09:28*
international dispute
Iraq
advice given, block issued
2022-05-16 15:01
poor mapping
Russia
map edited, other
2022-05-16 19:23
misdirected complaint
Germany
advice given
2022-05-17 06:51
misdirected complaint
Poland
advice given
2022-05-17 07:18
policy violation
Canada
reverted
2022-05-17 14:34*
poor mapping
Dominican Republic
other
2022-05-17 21:13
misdirected complaint
France
2022-05-17 21:51
poor mapping
Chad
changeset commented, reverted
2022-05-18 10:28
request for help or information
USA
advice given
2022-05-18 12:12
request for help or information
Belgium
advice given
2022-05-18 17:24
poor mapping
Dominican Republic
no action needed
2022-05-19 08:56
poor mapping
Worldwide
2022-05-19 15:30
vandalism
USA
no action needed
2022-05-19 22:41
user dispute or no response
Thailand
advice given, block issued, changeset commented
2022-05-20 07:03
3rd party complaint about data
Netherlands
map edited
2022-05-20 07:23
international dispute
Tajikistan
changeset commented, reverted
2022-05-20 13:17
privacy issue
Netherlands
advice given
2022-05-20 21:10
request for help or information
Estonia
advice given
2022-05-21 01:34
user dispute or no response
2022-05-21 09:57
poor mapping
Iraq
advice given
2022-05-21 11:20*
vandalism
USA
no action needed
2022-05-22 18:07
other
Turkey
no action needed
2022-05-22 22:17
request for help or information
Argentina
advice given
2022-05-23 12:21*
policy violation
Italy
advice given, reverted
2022-05-23 13:15*
international dispute
Iraq
advice given
2022-05-24 02:07
other
no action needed
2022-05-24 19:33*
spam
USA
block issued
2022-05-24 19:47*
vandalism
Azerbaijan
reverted
2022-05-25 04:23
request for help or information
Bahamas
advice given
2022-05-25 06:18*
other
Cuba
no action needed
2022-05-25 13:18*
user dispute or no response
Russia
other
2022-05-27 09:22
request for help or information
USA
advice given
2022-05-27 16:06
poor mapping
Poland
advice given, block issued
2022-05-27 17:18*
request for help or information
Korea
advice given
2022-05-28 13:15
misdirected complaint
unknown
advice given
2022-05-28 15:12*
poor mapping
USA
reverted
2022-05-28 18:09
misdirected complaint
advice given
2022-05-29 10:07*
user dispute or no response
Ukraine
2022-05-29 10:59*
vandalism
France
no action needed
2022-05-29 11:08*
poor mapping
France
advice given
2022-05-29 11:26*
poor mapping
Ukraine
no action needed
2022-05-29 11:42*
vandalism
Luxembourg
block issued, reverted
2022-05-29 12:06*
user dispute or no response
2022-05-29 12:15*
poor mapping
USA
hiding of notes or comments
2022-05-29 12:19
poor mapping
France
advice given
2022-05-29 12:31*
poor mapping
2022-05-29 12:39*
poor mapping
Italy
advice given
2022-05-29 12:48
copyright
USA
changeset commented, redacted, reverted
2022-05-29 12:58
poor mapping
2022-05-29 21:52*
user dispute or no response
Lithuania
advice given, block issued, changeset commented, map edited
2022-05-30 03:47*
other
2022-05-30 09:50
poor mapping
Latvia
reverted
2022-05-30 14:31*
other
Spain
block issued, reverted
2022-05-31 07:49
poor mapping
Worldwide
block issued
2022-05-31 11:27
poor mapping
2022-05-31 15:12
copyright
Canada
redacted
2022-05-31 17:09*
vandalism
USA
advice given, block issued, reverted
2022-06-01 07:39
3rd party complaint about data
Germany: Bayern
advice given, changeset commented, community contacted, map edited
2022-06-01 10:50
3rd party complaint about data
Croatia
advice given
2022-06-01 17:24
copyright
USA
changeset commented
2022-06-01 18:18
other
Germany
advice given, community contacted, map edited
2022-06-02 09:48
user dispute or no response
UK
changeset commented, community contacted
2022-06-02 10:36
vandalism
Worldwide
block issued, reverted
2022-06-02 10:49
request for help or information
USA
advice given
2022-06-02 16:57
misdirected complaint
n/a
advice given
2022-06-03 12:11*
poor mapping
USA
block issued
2022-06-03 12:28
vandalism
Ukraine
block issued, reverted
2022-06-04 08:28
policy violation
Iran
block issued, reverted
2022-06-05 04:57
other
Russia
other
2022-06-05 10:45
misdirected complaint
US
2022-06-05 19:24
international dispute
Morocco
advice given
2022-06-06 01:25
misdirected complaint
Australia
advice given, community contacted
2022-06-06 07:34
misdirected complaint
UK
advice given
2022-06-06 08:51
international dispute
Cyprus
advice given
2022-06-06 11:12
vandalism
Moldova
block issued, reverted
2022-06-06 11:28*
poor mapping
Iraq
block issued, changeset commented, map edited, reverted
2022-06-06 12:40
poor mapping
Latvia
block issued, reverted
2022-06-06 14:39*
poor mapping
Ukraine
block issued, hiding of notes or comments
2022-06-06 14:54
user dispute or no response
Worldwide
advice given, community contacted
2022-06-07 09:06
privacy issue
France
advice given
2022-06-07 12:14
user dispute or no response
Austria
changeset commented, reverted
2022-06-07 14:49
user dispute or no response
USA
changeset commented
2022-06-07 22:03
request for help or information
USA
advice given, community contacted
2022-06-08 15:19
user dispute or no response
Germany
block issued
2022-06-08 17:04
request for help or information
Canada
advice given
2022-06-09 09:31*
poor mapping
Belarus
block issued, reverted
2022-06-09 12:18*
poor mapping
Belarus
block issued, reverted
2022-06-09 12:29*
poor mapping
Belarus
block issued, reverted
2022-06-09 12:40*
request for help or information
Romania
advice given
2022-06-09 13:36
user dispute or no response
USA
changeset commented, community contacted
2022-06-10 14:58*
poor mapping
Belarus
block issued, reverted
2022-06-11 08:55
request for help or information
Unknown
advice given
2022-06-11 13:22
copyright
USA
block issued
2022-06-11 13:33
user dispute or no response
USA
block issued
2022-06-11 14:45*
user dispute or no response
Worldwide
changeset commented
2022-06-12 20:25
poor mapping
Latvia
map edited
2022-06-13 00:19
misdirected complaint
US: NY/NJ
advice given
2022-06-13 03:32
misdirected complaint
USA
advice given
2022-06-13 15:57*
user dispute or no response
Russia
changeset commented, other
2022-06-13 23:35
international dispute
Western Sahara
changeset commented, reverted
2022-06-14 01:46
user dispute or no response
USA
no action needed
2022-06-14 07:31
request for help or information
Denmark
hiding of notes or comments
2022-06-14 20:14
other
2022-06-15 14:51
misdirected complaint
USA
advice given
2022-06-16 06:27
misdirected complaint
USA
no action needed
2022-06-16 08:05
misdirected complaint
Germany
map edited
2022-06-16 16:52
request for help or information
Germany
advice given
2022-06-16 17:16
request for help or information
USA
hiding of notes or comments
2022-06-17 11:23*
user dispute or no response
Ukraine
block issued
2022-06-17 11:38*
vandalism
Worldwide
block issued, reverted
2022-06-17 12:00*
poor mapping
Ukraine
block issued
2022-06-18 09:39*
user dispute or no response
Italy
block issued
2022-06-18 09:45
poor mapping
USA
advice given
2022-06-18 10:31*
poor mapping
Germany
advice given
2022-06-18 10:47*
spam
Israel
advice given, block issued, map edited
2022-06-18 11:18*
user dispute or no response
South Korea
advice given, changeset commented
2022-06-18 11:53*
user dispute or no response
2022-06-18 11:58*
poor mapping
Europe
advice given
2022-06-18 12:10*
poor mapping
Worldwide
map edited
2022-06-18 12:37*
user dispute or no response
Poland
advice given
2022-06-18 12:49*
poor mapping
Germany
advice given, reverted
2022-06-18 12:55*
poor mapping
USA
advice given
2022-06-18 13:05*
vandalism
Germany
advice given
2022-06-18 13:13*
poor mapping
Kazakhstan
changeset commented
2022-06-18 13:19*
user dispute or no response
Philippines
no action needed
2022-06-18 13:26
user dispute or no response
France
advice given, changeset commented
2022-06-18 13:53*
user dispute or no response
2022-06-19 11:25*
international dispute
UAE;Iran
block issued
2022-06-19 11:31*
poor mapping
Iraq
advice given
2022-06-19 11:36
vandalism
Georgia
advice given, block issued, changeset commented
2022-06-19 11:51
poor mapping
Germany
advice given, block issued, changeset commented, map edited, redacted
2022-06-19 11:59*
user dispute or no response
USA
advice given, changeset commented
2022-06-19 12:03
request for help or information
advice given
2022-06-19 12:21*
poor mapping
Worldwide
changeset commented, reverted
2022-06-19 13:01*
vandalism
USA
block issued
2022-06-19 13:10*
vandalism
Iraq
block issued, reverted
2022-06-20 05:31*
request for help or information
Turkey
reverted
2022-06-21 07:04*
other
2022-06-21 11:49
vandalism
Poland
block issued
2022-06-21 18:11
other
2022-06-22 03:08
privacy issue
USA
hiding of notes or comments
2022-06-22 10:45
3rd party complaint about data
Netherlands
map edited
2022-06-22 16:23*
poor mapping
UK
changeset commented
2022-06-23 06:21
poor mapping
Russia
block issued
2022-06-23 11:22
other
Spain
reverted
2022-06-23 18:15*
vandalism
China
advice given
2022-06-23 18:17*
vandalism
Poland
advice given, reverted
2022-06-23 18:54*
poor mapping
Yemen
advice given, block issued
2022-06-23 19:01*
poor mapping
2022-06-23 19:04*
poor mapping
Italy
advice given
2022-06-23 19:08*
poor mapping
2022-06-23 19:14*
poor mapping
Uzbekistan
advice given
2022-06-23 19:22*
poor mapping
China
advice given
2022-06-23 19:27*
poor mapping
Peru
advice given
2022-06-24 10:05
user dispute or no response
Russia
block issued
2022-06-24 10:35
request for help or information
UK
advice given
2022-06-24 16:25*
user dispute or no response
Russia
no action needed
2022-06-25 15:48
vandalism
Russia
block issued
2022-06-25 17:55*
vandalism
Ukraine
2022-06-25 18:17*
user dispute or no response
Unknown
advice given
2022-06-25 18:25*
poor mapping
France
block issued
2022-06-25 18:33*
poor mapping
Japan
advice given
2022-06-25 18:38
user dispute or no response
Thailand
block issued
2022-06-25 18:45*
poor mapping
USA
block issued
2022-06-25 19:01*
poor mapping
Switzerland
no action needed
2022-06-25 19:06*
poor mapping
2022-06-25 19:10*
poor mapping
2022-06-25 22:50
poor mapping
UK
advice given, block issued, changeset commented, community contacted
2022-06-26 03:44
other
other
2022-06-26 14:17
request for help or information
2022-06-27 16:42
poor mapping
Worldwide
changeset commented
2022-06-28 02:04
3rd party complaint about data
Hungary
map edited
2022-06-28 12:48
other
China
advice given, block issued
2022-06-28 13:00
other
Brazil
advice given, block issued, reverted
2022-06-29 15:35
other
US: NY/NJ
advice given
2022-06-29 19:59
privacy issue
Italy
advice given
2022-06-30 13:39*
user dispute or no response
Worldwide
no action needed