DWG Activity Report for Jan-Jun 2013
In the first half year of 2013, DWG handled approximately 110 cases (see attached list). Some cases are quickly identified as non-issues, but many require detailed investigation and communication, the blocking of users and/or the reverting of edits.
In addition to that everyday work, we had an IRC meeting where we decided on a work plan (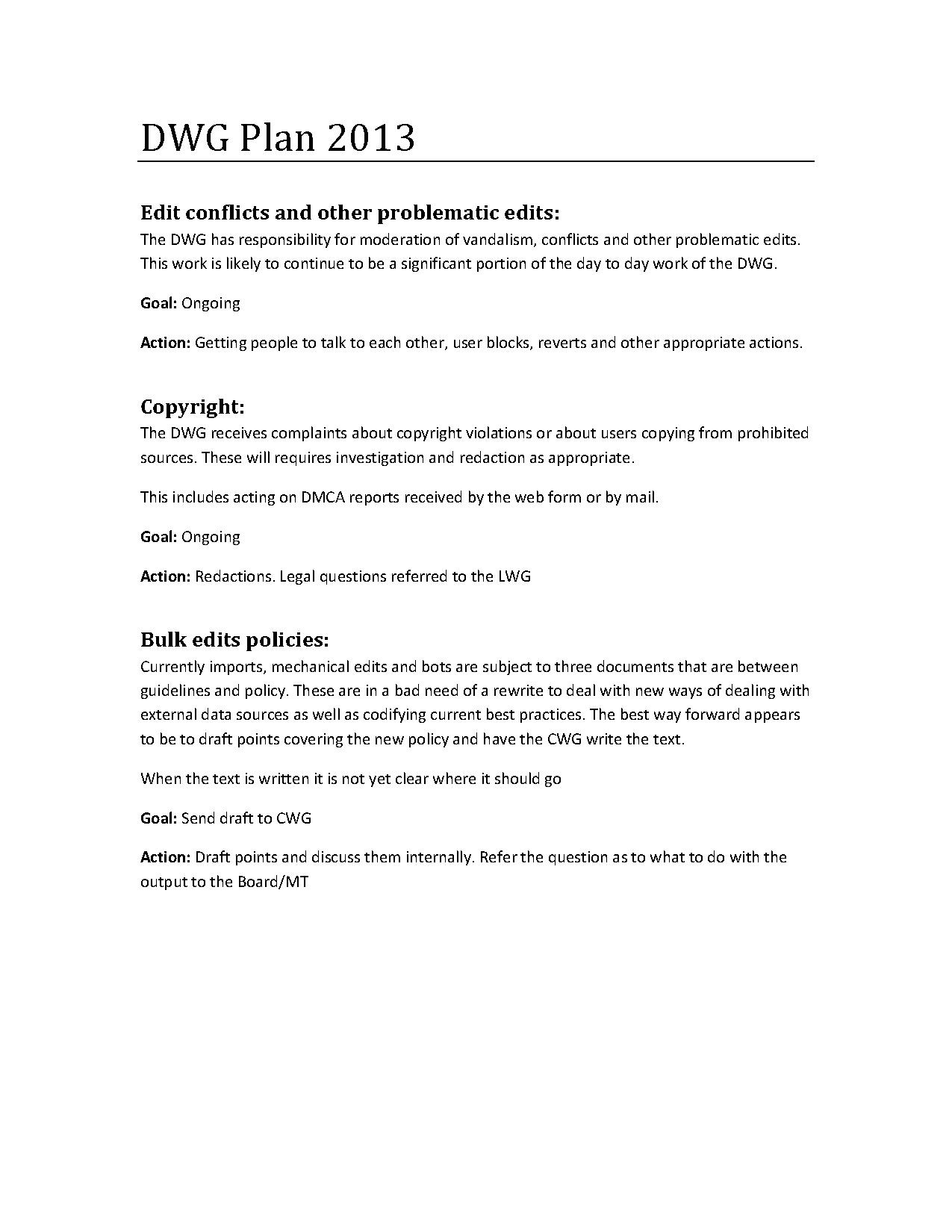 ), and in the course of deciding on the first indefinite block issued for an active user (the NE2 case) we wrote a document that outlines the process of blocking users and the means of appeal. This document is currently being considered by the OSMF management team and will be published shortly. We have also done preliminary work on a policy that describes the general expectations regarding good behaviour in the project, but that will have to be consolidated with other efforts in the same direction and will require broader discussion on OSMF-talk.
The first half of 2013 was also when we received and handled the first ever DMCA takedown notice for OSM. We have given some input to LWG who set up a general policy on dealing with DMCA takedown notices; that policy will be published after it has been cross-checked by the OSMF board.
We are always looking for people to help us shoulder the work we have; ideally, we're looking for people with a long experience in OSM, with the technical know-how to investigate and revert edits, and who have a good standing in their local OSM community.
Following is a list of cases in which DWG was involved during the first half of 2013. This list is not necessarily complete, but almost. (In the case of territorial disputes the country listed is either the country Nominatim reports the activity was in or the country the user believes the area belongs to and does not represent a DWG decision on the dispute.)
| | | |
| --- | --- | --- |
| Month | Country | Topic |
| Jan 2013 | Estonia | house number "import" from cadastral data |
| Jan 2013 | Norway | use of incompatible source |
| Jan 2013 | China | incorrect mapping by new user |
| Jan 2013 | Canada | mass deletion/recreation of power lines |
| Jan 2013 | Ireland | serial vandalism |
| Jan 2013 | China | suspicious import |
| Jan 2013 | Chile | use of incompatible source |
| Jan 2013 | France | anti redaction bot activity |
| Jan 2013 | Germany | user being overly protective of his edits |
| Jan 2013 | Ecuador | bad import |
| Jan 2013 | Bolivia | use of incompatible source |
| Jan 2013 | Spain | vandalism |
| Jan 2013 | UAE | bad editing |
| Jan 2013 | USA | DMCA takedown request |
| Jan 2013 | Brazil | bad editing |
| Jan 2013 | Germany | user being overly protective of his edits |
| Jan 2013 | Austria | bad import |
| Jan 2013 | Philippines | use of incompatible source |
| Jan 2013 | France | bad import |
| Jan 2012 | Spain | bad import |
| Jan 2013 | Algeria | bad import |
| Jan 2013 | France | bad import |
| Jan 2013 | Japan | bad import |
| Jan 2013 | Canada | undiscussed import |
| Jan 2013 | France | bad import |
| Jan 2013 | France | bad import |
| Feb 2013 | Azerbaijan | vandalism |
| Feb 2013 | Australia | use of incompatible source |
| Feb 2013 | USA | personality issue |
| Feb 2013 | Kenya | conflict; user impersonating OSMF official |
| Feb 2013 | Haiti | fictional data |
| Feb 2013 | USA | use of incompatible source |
| Feb 2013 | USA | fictional data |
| Feb 2013 | UK | conflict; user impersonating OSMF official |
| Feb 2013 | Russia | vandalism |
| Feb 2013 | UK | undiscussed import |
| Feb 2013 | Latvia | undiscussed import |
| Feb 2013 | France | bad import |
| Feb 2013 | France | bad import |
| Feb 2013 | Sweden | undiscussed import |
| Feb 2013 | Japan | bad import |
| Mar 2013 | -- | editor fault corrupting data |
| Mar 2013 | Germany | vandalism |
| Mar 2013 | Germany | vandalism |
| Mar 2013 | Germany | suspicious edits |
| Mar 2013 | USA | use of incompatible source |
| Mar 2013 | Korea | territorial dispute |
| Mar 2013 | USA | fictional data |
| Mar 2013 | Japan | bad import |
| Mar 2013 | France | bad import |
| Mar 2013 | Albania | undiscussed import |
| Mar 2013 | Italy | bad import |
| Mar 2013 | France | bad import |
| Apr 2013 | UK | use of incompatible source |
| Apr 2013 | Turkey | use of incompatible source |
| Apr 2013 | USA | bad import |
| Apr 2013 | China | territorial dispute |
| Apr 2013 | Canada | vandalism |
| Apr 2013 | Mexico | new user making mistakes |
| Apr 2013 | UK | un-discussed mass edits |
| Apr 2013 | USA | use of incompatible source |
| Apr 2013 | Korea | territorial dispute |
| Apr 2013 | Korea | territorial dispute |
| Apr 2013 | Korea | territorial dispute |
| Apr 2013 | Korea | territorial dispute |
| Apr 2013 | Turkey | use of incompatible source |
| Apr 2013 | USA | undiscussed import |
| Apr 2013 | Canada | bad import |
| Apr 2013 | USA | use of incompatible source |
| Apr 2013 | Poland | undiscussed import |
| Apr 2013 | Cameroon | undiscussed import |
| Apr 2013 | France | bad import |
| Apr 2013 | France | bad import |
| Apr 2013 | France | bad import |
| Apr 2013 | Australia | undiscussed import |
| Apr 2013 | USA | bad import |
| May 2013 | Cambodia | use of incompatible source |
| May 2013 | Germany | vandalism |
| May 2013 | South Africa | duplicated place IDs |
| May 2013 | Ukraine | dispute |
| May 2013 | Cyprus | government communication |
| May 2013 | Germany | request for removal of person's name |
| May 2013 | worldwide | mass retagging for OpenSeaMap |
| May 2013 | Japan | territorial dispute |
| May 2013 | France | use of incompatible source |
| May 2013 | Sweden | undiscussed mass edit |
| May 2013 | USA | undiscussed import |
| May 2013 | Germany | undiscussed mass edit |
| May 2013 | worldwide | vandalism |
| May 2013 | Poland | undiscussed mass edit |
| May 2013 | France | bad import |
| May 2013 | USA | test uploads to main API |
| May 2013 | Korea | territorial dispute |
| May 2013 | UK | undiscussed import |
| May 2013 | Italy | undiscussed import |
| May 2013 | Denmark | undiscussed import |
| Jun 2013 | Romania | conflict; autocratic user |
| Jun 2013 | Russia | conflict; unresponsive new user damaging data |
| Jun 2013 | Turkey | bad edits |
| Jun 2013 | Albania | use of incompatible source |
| Jun 2013 | Ethiopia | GPX trace vandalism |
| Jun 2013 | Poland | dispute about names |
| Jun 2013 | Brazil | undiscussed import |
| Jun 2013 | France | bad import |
| Jun 2013 | Denmark | undiscussed import |
| Jun 2013 | Australia | undiscussed import |
| Jun 2013 | France | bad import |
| Jun 2013 | China | use of incompatible source |
| Jun 2013 | Italy | undiscussed import |